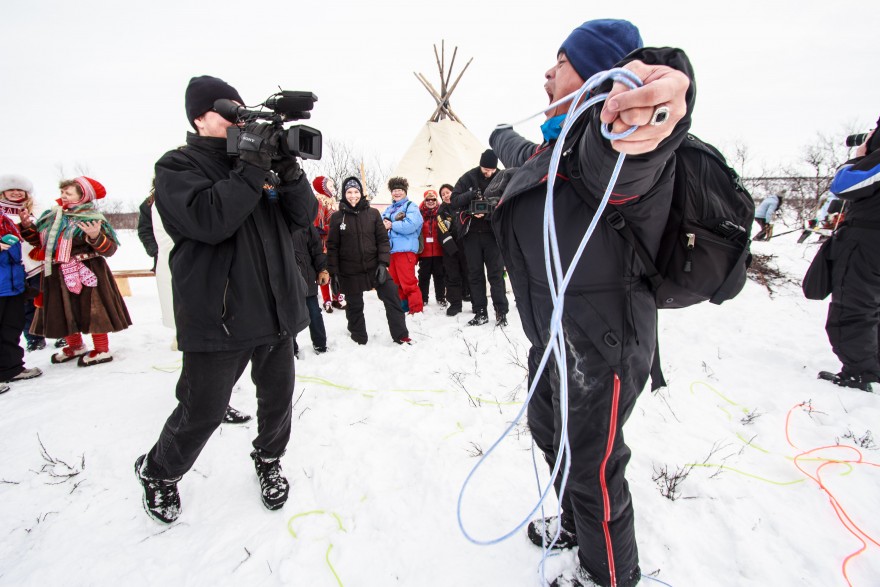 January 19. beaivi 2016
Join the Master programme in Indigenous Journalism
Are you already a journalist working within indigenous media? 
Or are you interested in working with indigenous issues? 
 
Then this Programme might be for You! 
A unique programme bringing together students from all over the world to the magic world of Sápmi, above the Arctic circle – an experience of a lifetime! 
As the first of its kind, the Sámi University of Applied Sciences in Guovdageaidnu/Kautokeino, Norwegian Sámiland, offers a Master´s degree in Indigenous Journalism. 
We offer high quality education from an indigenous perspective, lectures by world leading experts and exciting international networks.
International Master's Programme in Indigenous Journalism
Indigenous journalism is a developing field in communication practice, with an increasing need for professionals and experts. Sámi University of Applied Sciences offers one of the few existing Bachelor programmes in journalism from an indigenous perspective. This international Master's Programme in Indigenous Journalism started in 2015 as a unique programme in the field of media and journalism in the world. Simultaneously, this programme offers a continuation to the existing Bachelor's programme at the Sámi University of Applied Sciences.
The Master's Degree Programme in Indigenous Journalism provides rigorous academic training for further study and deep insight into the world of journalism, while simultaneously examining the world of journalism from an indigenous perspective. An important aspect of the programme is to enable the students to reflect upon what it means to be an indigenous journalist, and what, if any, bearings this perspective has on journalistic practice. The programme offers theoretical and research based knowledge of journalism, and of the methods and skills that are required for working as journalists in advanced positions.

 
Starting date for course: 16 January 2017

Language of instruction: English

Study place: Guovdageaidnu/Kautokeino, Norway

90/120 credits (ECTS)

Duration: 1 ½ years (for a 90 ECTS Master's) or 2 years (for a 120 ECTS Master's, which gives access to further study).

A Master's Programme approved by the Norwegian Agency for Quality Assurance in Education.

The programme has NO TUITION FEES.

Open for application from: 22 January 2016.

Application deadline for local students: 23 May 2016

Application deadline for international students: 25 April 2016

 


For more information on the programme visit indigenousjournalism.
The coordinator will answer your questions about the course.
Please, send an email to the coordinator at: indigenous_journalism@samiskhs.no
We are looking forward to hearing from you!